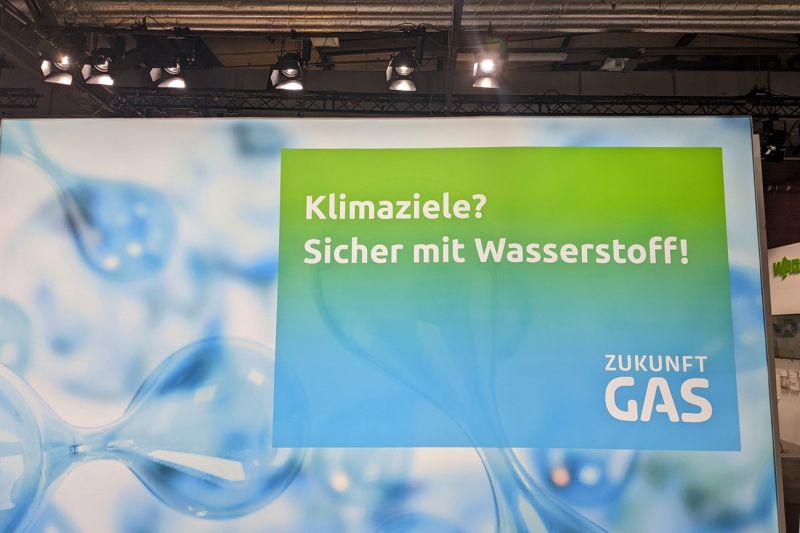 "Climate targets? Safe with hydrogen!" reads a sign by the Zukunft Gas lobby group. (Credit:
Phoebe Cooke
)
Germany's push to achieve climate neutrality by 2045 could, by some projections, soon turn the vast network of natural gas pipelines powering the country's homes and industry into one of Europe's biggest stranded assets.
But gas grid executives gathered in Berlin this week to lay out a survival strategy: Retool their infrastructure to turn clean-burning hydrogen into the engine of Germany's energy transition.
Echoing a trend seen among fossil fuel incumbents the world over, Germany's pipeline operators are casting themselves as gatekeepers to climate solutions. The risk is that such companies could use their lobbying muscle to crowd out cheaper ways to slash emissions, while locking-in systems that prolong dependence on oil and gas, experts warn.
Under the banner "We Secure Energy," more than 1,000 members of the German Association of Energy and Water Industries (BDEW) convened at the two-day conference, billed as "Europe's largest energy congress," to discuss "climate-neutral" gases, heating and the energy crisis triggered by Russia's invasion of Ukraine.
Kerstin Andreae, BDEW's managing director, acknowledged in her opening address that the natural gas era was coming to a close – but was quick to present hydrogen as an industry lifeline.
"It's quite simple," said Andreae, who served as a Green Party member of parliament from 2002-2019. "It's clear that if we want to reach carbon neutrality by 2045, we have to transition away from gas. But we'll need molecules, and that is the deciding factor.
"In Germany, we've decided on gas as the partner for renewable energy, decided that we need decarbonised gases [hydrogen and biomethane] – because these gases, through their ability to store energy, play a very important role in the energy transition."
One of Germany's most influential lobby groups, BDEW's members include utilities Uniper, RWE and Vattenfall, as well as grid operators and dozens of smaller municipal utilities, who together account for 90 percent of gas sold in Germany. Last year, BDEW spent more than seven million euros on lobbying the German government, official records show.
'False Solutions'
Hydrogen advocates say it makes sense to convert existing pipelines to carry the gas – since it can be used as a substitute for natural gas by many industries. Unlike natural gas, which is comprised mostly of methane, a powerful climate pollutant, hydrogen does not emit planet-warming carbon dioxide (CO2) when burned.
But much depends on the way the hydrogen is made. Last year, 96 percent of the European Union's hydrogen was considered "grey" – meaning it was made from natural gas in a process that emits significant volumes of CO2.
In Germany, oil and gas companies such as Shell and Wintershall Dea, both sponsors of the conference, have pledged to ramp up production of "blue" hydrogen – where the CO2 released during production of the gas is stored underground using a process known as carbon capture and storage. Critics say blue hydrogen is simply fossil gas dressed up as clean energy, since the manufacturing process will inevitably leak large quantities of CO2 into the atmosphere, and is highly inefficient relative to electrification using renewable energy.
Green hydrogen is regarded as the cleanest variety since it is produced using electrolysis powered by solar or wind, and is seen as one of the few viable ways to decarbonise so called "hard-to-abate" sectors such as steel.
Although Germany and the European Union have set ambitious green hydrogen targets, the world currently only produces the gas at pilot scale. And research has found that in most cases it may be cheaper and more effective to use renewable electricity to power industry directly, rather than divert it to the energy-intensive process of producing green hydrogen – sometimes likened to "champagne" to reflect its scarcity, expense and high-end use case.
"We need to be extremely careful when building the hydrogen network," said Constantin Zerger of Environmental Action Germany, an advocacy group.
"There is a great risk that hydrogen is seen as a simple solution and an easily available fuel. In the worst case, this could come in the way of energy transition and electrification."
Such caution was in scant evidence in the main conference hall, which occasionally vibrated with the shudder of a nearby metro, where Germany's biggest gas lobby groups offered blue and green magazines, leaflets and demonstrations on future hydrogen networks.
"Hydrogen accelerates the energy transition and secures our prosperity," read the blurb of a magazine published by DVGW, a German trade association for gas and water. Zukunft Gas ('Future gas'), another lobby group, handed out leaflets for its Platform H2 Kommunal – an association planning to expand regional hydrogen management.
'Starting Gun'
During the June 14-15 conference, gas grid operators welcomed signs of a political shift – backing from German Chancellor Olaf Scholz and Vice-Chancellor Robert Habeck for a draft law to scope out a 13,000 kilometres hydrogen grid, mainly for industrial use.
Grid operators are now due to flesh out more detailed plans for the network, which will include 11,000 kilometres of existing gas pipelines, ahead of a public consultation. Assuming the project is approved by Germany's federal grid agency, the Bundesnetzagentur, it could start operating in 2032.
Andreae, the BDEW's managing director, welcomed the move.
"This is not a 'champagne grid', but a 'core grid' – an enormous transport grid for hydrogen," she said. "And that is a starting gun for the necessary investments, because the investments in industry ... can only come when a connection to an enormous transport grid is provided."
But Lisa Fischer, programme lead at think tank E3G, warned that relying on the operators of the existing gas grid to design the hydrogen network could skew the project in favour of the incumbents' commercial interests.
At the EU level, regulations are being negotiated to negate this risk by separating any hydrogen planning entity from gas pipeline ownership, Fischer added.
"The biggest issue with the project is that gas network operators have been invited to make the first proposition, which poses a massive conflict of interest," said Fischer.
The plans also lacked clear deadlines for when pipelines would shift from using a blend of natural gas and hydrogen to being repurposed solely for hydrogen, Fischer said, raising risks that the use of climate-heating natural gas could drag on.
'The Blue, the Turquoise, or the Pink'
For the fossil fuel companies and business groups backing hydrogen, such concerns are secondary to the priority of creating a friendly regulatory environment to allow the embryonic hydrogen industry to grow.
Felix Faber, Shell Germany's managing director, said it was "very important to replace gas" and called for collaboration to develop more market-friendly hydrogen regulations.
Catherine MacGregor, chief executive of French utility Engie, described Europe as a former "pioneer" in hydrogen that was losing its place in the global race to develop the gas.
"The United States and other places are overtaking us, because we are spending so much time discussing the shade of the colours – the blue, or the turquoise, or the pink," MacGregor said, to applause. "Someone has to say it, I know I'm not the only one to think it."
Speaking in a separate event, Andreae, the BDEW's managing director, agreed.
"Ultimately, hydrogen has to be green," she said. "Ultimately, it has to be decarbonised. But right now, we're speaking about the transition into this world."
This story was first published on DeSmog, a journalistic website that investigates and reports misinformation campaigns and organizations opposing climate science and action. It is part of a DeSmog series on the influence wielded by the gas lobby in Europe. A series of articles in German on this topic can be found here.